Managing Goal Achievement®
What Is MGA™?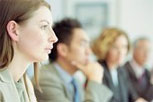 Managing Goal Achievement® is a dynamic personal growth journey toward higher productivity, personal satisfaction, self-confidence...whatever individual participants define as the necessary components for higher achievement. The power behind the MGA™ process is the positive, supportive, unbiased environment created to minimize fear and heighten the potential for discovery learning. Key program components include:
Easily remembered Goal Achievement System,

Nine-week structured follow-up course,

Ongoing managers' coaching,

Monthly reinforcement Personal Growth sessions,

Multiple support tools for individual assessment and detailed goal planning.
Congruence of Knowledge, Skills and Values
Conflicts in any of the five dimensions noted in the model prevent successful goal attainment. These conflicts can also torpedo productivity, achievement drive, self-respect, and personal satisfaction. The achievement of any goal – be it personal or professional – can only be realized when the five dimensions become congruent. Managing Goal Achievement® triggers the internal assessment of actions, behaviors, and beliefs within each dimension, and then supports participants to congruence through behavior change and growth.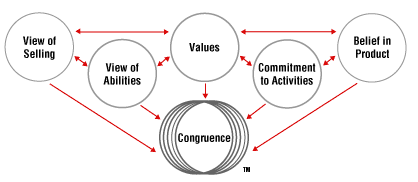 Goal Achievement System™
One of the most powerful components of MGA™ is the Goal Achievement System™. The easily remembered system is made up of five steps:

Powerful Benefits of MGA™
While participants work toward goal achievement in the nine-week course, the benefits they receive far outweigh a list of goals achieved during that period. MGA™ course graduates develop the skills to:
Achieve their full potential by unlocking self-imposed, limiting beliefs.

Build beliefs, attitudes, and strengths necessary to improve the quality of life.

Take control of thoughts or expectations and powerfully influence end results.

Overcome the resistance to change and perform at higher levels.

Take full responsibility for success and prosperity.

Successful leaders recognize potential and facilitate the growth of their people. Today, good employees demand that from leadership. Managers benefit substantially from MGA™ as they learn to:
Coach people to self-discovery in an environment balanced by support and accountability.

Positively influence the underlying factors that impact desired individual and team performance.

Unlock team motivation, commitment and achievement drive.

Expand the team's view of its value, potential and/or achievement possibilities.

Create trusting, loyal relationships and strong team synergy.
MGA™ Timeline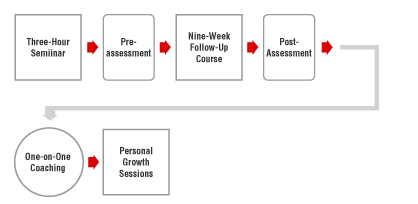 Quotes
"Our production increased 29%, and we have recruited 15 new associates. Clearly Managing Goal Achievement® has a major impact on our results."
- Jerry Harnik, General Development Manager, The Guardian
"There is no doubt in my mind Managing Goal Achievement® is the primary reason our agency is up 130% over last year."
- General Manager, Principal Mutual Life Insurance
"Managing Goal Achievement® is life-changing and thought-provoking; a drive-inducing road to discovery."
- Tony DiMaria, Broker-Owner, Century 21 All Star Realtors
"Ten of my 17 agents qualified for Million Dollar Round Table, and four qualified for the very first time. My unit had a 33% increase in production."
- Mike Niedert, Manager, Principal Financial Group