Achieve!™
Maximizing Your Sales Potential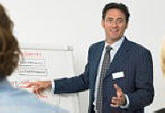 Why do 20% of salespeople outsell the rest of the team?
What causes one new recruit to struggle while another can soar?
How can a senior sales professional get back on track?
Achieve! is a process that challenges sales professionals to expand their attitudes, beliefs and commitment to excellence.
Achieve! is a six hour seminar followed by six weeks of practical application and reinforcing feedback. Participants examine the key characteristics, attitudes, values and beliefs that contribute to success in selling. The Achieve! process utilizes self-discovery to increase awareness of individual strengths and weaknesses, and leverage untapped potential. It improves the ROI from the foundational selling skills learned in programs like Integrity Selling® by helping participants achieve peak performance through self assessment and action planning. Achieve! is a content-rich design that changes the way sales professionals think about what really matters in selling.
Participants in Achieve! will learn to:
Define their Sales Approach

Set SMART Goals

Release Achievement Drive

Sharpen Emotional Intelligence

Develop Social Skills

Overcome Conflicts & Maximize Potential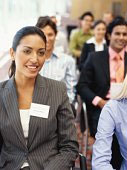 The initial seminar in Achieve! utilizes a discovery-learning design to understand and apply key personal performance insights. This highly interactive seminar is assessment-driven and supported by technology, however Achieve! is not a traditional "motivational" training program. The six-week follow-up process - guided by our state of the industry Navigator software, drives self-directed applications in real world situations. Each week, sales professionals meet with their managers to discuss their experience in applying a specific value, practice or belief. They also receive a progress report and coaching, based on the information gathered by the Navigator. And, like all Integrity Solutions® processes, the results of Achieve! can be measured to insure client expectations are met.
Results
As a result of investing in Achieve! your sales organization will:
Accelerate the performance of newly hired salespeople

Re-energize sales professionals who've reached a plateau

Expand the aspirations and achievement of already high performers

Manage the emotional "hills and valleys" of a typical sales process

Improve measurable productivity throughout the organization
Clients
Brochure